纽约幼狮青少年管弦樂團YOUTH ORCHESTRA, CYCNY
86-30 188TH Street, Jamaica Estates, New York 11423
Tel. 718-834-8904, 718-454-7181 Fax 718-454-8035
E-mail: youthorch8@aol.com www.youthorchestsra.com
<![if !vml]>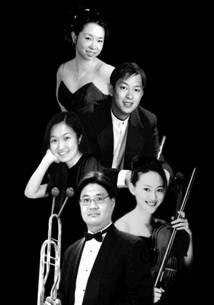 <![endif]>YOUTH ORCHESTRA, CYCNY is proud to present its 2nd Annual Faculty Chamber Music Concert at Taiwan Center, located at 137-44 Northern Boulevard in Flushing on Friday, February 27 at . Ticket is $10 per person and available at Taiwan Center Box Office (718-445-7007). For additional information, please contact: 718-834-8904.
Program includes:
W. A. Mozart: Ah! Vous dirai-je, Maman
Max Bruch: Kol Nidrei
Franz Schubert: Serenade
Arthur Pryor: Air & Variations of "Blue Bells of Scotland"
Nanae Mimura: Variation of Pachelbel's Canon
Rafael Hernandez: Perfume de Gardenias
Felix Mendelssohn: Spring Song
Camille Saint-Saëns: The Swan
Chang Cher/Hwang Yo-Di: Melody of Ali Mountain
As well as Taiwanese folk tunes.
The featured faculty members are: Joyce Lin/Piano, Kenneth Chia/Flute, I-Ju Chang/Marimba, Lillian Hung/Viola and Jeffrey Liang/Trombone.
The teachers are young enthusiastic virtuosos who graduated and received training from The Yale University, Indiana University, Carnegie Mellon University, University of Southern California, The Manhattan School of Music, The Mannes School of Music, and The Juilliard School.
This project is made possible with funds from the Decentralization Program, a regrant program of the New York State Council of the Art, administered by the Queens Council on the Arts.
For Further Information
Contact: Patsy Chen 718-834-8904
E-Mail: patyschen@aol.com